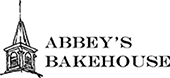 Located on the shores of Lake Rosseau in the heart of Muskoka, Abbey's Bakehouse finds its home in a 19th century church, rebuilt and repurposed from its original location of Digby, Nova Scotia. Our sister location is situated in the heart of Port Carling.
Offering a variety of baked good and frozen treats, Abbey's fulfills sweet-tooth cravings for cottage classics (butter tarts, pies and homemade gelato & sorbetto) and introduces savoury focaccia loaves and brownie-stuffed chocolate chip cookies.
Why work at Abbey's you ask? Because what we offer is different!
Privately owned Canadian corporation
Real baked goods made from scratch
Opportunity to work up in Muskoka for the summers
Passionate and focused hospitality leaders
Strong focus on personal and career development
Competitive pay and benefits offered at all levels
Employee discounts across all locations